What's a Basic Strategy?
A basic strategy in blackjack is the strategy which, knowing the face-up card of the dealer and your hand, simply calculating the probabilities of a card being dealt, allows the player to always make the best decision and play optimally. It has nothing to do with card counting and can be applied to any blackjack table in the world without the risk to be thrown out. When you hear about the house edge for blackjack games quoted by casinos and gaming regulators, usually between 0.5% and 1%, this estimate is generally based on the assumption that the players follow this basic strategy and do not methodically change the size of their bets.
What's our Blackjack Basic Strategy Card?
Our "Angel or Devil" blackjack basic strategy card is a card you can download, print and bring with you at the casino which shows a table of the best possible actions to take according to your hand and dealer's up-card.
The given chart is valid for 4 of more decks when the dealer stands on soft 17, that is a very common rule of many variants of blackjack. If you are unsure whether this chart applies to the variant of blackjack you are going to play, please feel free to contact us through the contact form.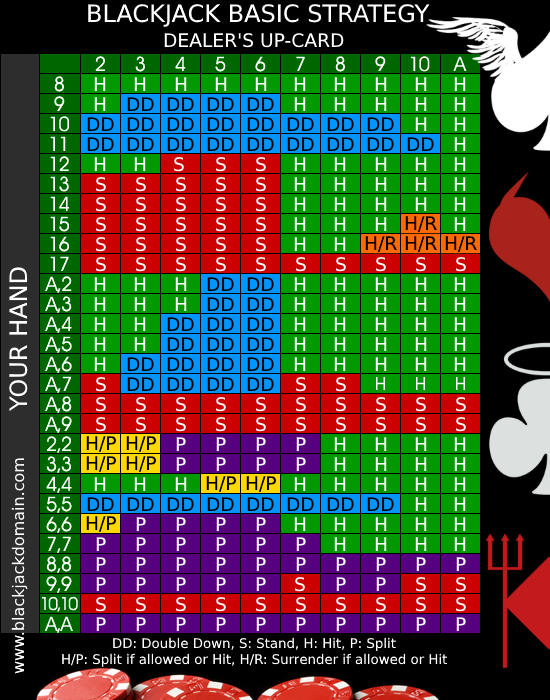 You can also print this blackjack chart off and consult it at your next online or mobile blackjack gaming session, maximizing your chances of winning in the process. Full resolution dimensions are 14.55×18.52 cm (5.73×7.29 inches). If you need other dimensions feel free to contact us as well.
If you prefer, we have also a "sexy silhouette" variation.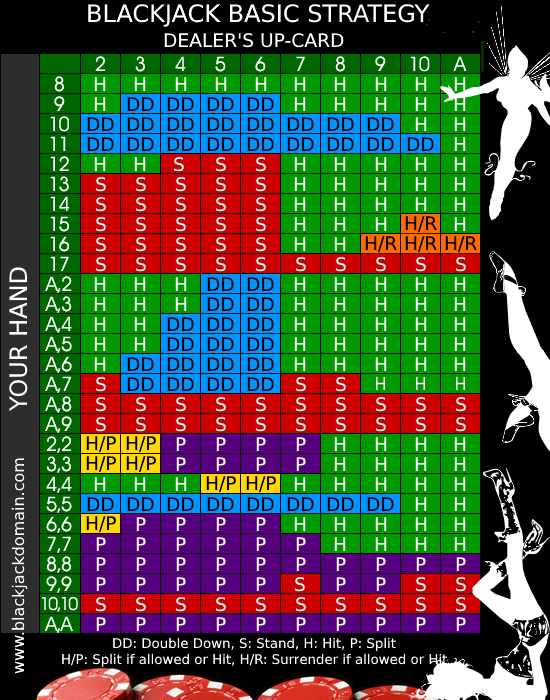 Good luck! May you find the "pot of gold" at the end of the rainbow.