Since 17th century, Blackjack has been a favourite casino game for people of every age, not only for the reputation of being a game for high rollers with often huge amounts of money at stake, but also because it is a game where you can use your intelligence to device strategies to improve your chances of winning. In the 21st century, the launch of the online casino has brought a revolution in the way we play and made the game even more popular and loved by gamblers all around the world.
Also according to many surveys, Blackjack is undoubtedly one of the most sought after games in virtual casino environments and, as such, it can't be ignored by any serious casino software provider. Developers actually have even made various versions of blackjack to engage people even further, but one company is always a step ahead the competition.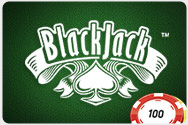 Maybe more known for their stunning video slots, NetEnt propose six distinct blackjack versions in their casino games library, with various options, different environments and graphics that keep one engaged for hours.
Those who love the thrill and excitement of a live casino experience can opt for the HD Live Blackjack, where live dealers provide real action broadcast directly onto your computer, laptop or mobile device. Then there is a Blackjack Professional Series version which provides small variations for bigger wins, a Double Exposure Blackjack version with a unique style of play, and a Single Deck Blackjack version with more traditional payouts and features, but a true Heaven for card counters.
NetEnt Blackjack games
HD Live Blackjack
This is a classic blackjack game played with 8 decks of 52 cards against an attractive live dealer and brought to you in HD streaming from an official venue. It is the most requested and played version among the blackjack games offered by NetEnt.
Single Deck Blackjack
This version of Blackjack mainly caters to beginners who want to learn everything about the game and want to get used to rules, basic strategies and alike. The version is played using fifty-two cards, that it actually makes easy for the skilled player to count the cards. As usual you have to get close to number twenty-one for winning. It's worth to notice that with Single Deck Blackjack, unlike other versions, when you split aces you can't make blackjack and the payout for blackjack is 3:2.
Play Single Deck Blackjack here for free!
Double Exposure Blackjack
Double Exposure Blackjack™ is an extremely easy game to play and, as such, especially aimed for the players who are trying to learn the basics. The name itself suggests that this version breaks the barriers of all guesswork involved in most of other types of blackjack variants. In fact both dealer's cards are turned face up, and hence the players can certainly make more informed decisions. The game is played with 6 standard decks of 52 cards shuffled before each round. 21 on the first two cards means instant win.
Play Double Exposure Blackjack Pro Series here for free!
Blackjack Professional Series
This game is a 3 hand blackjack game with a 3D look and exceptional cards animation, played with 4 standard decks of 52 cards and featuring a Double Jack™ side bet. A Double Jack™ bet wins if the first card in the regular blackjack hand is a jack, or if the first two cards in the regular Blackjack hand is a pair of jacks. In particular two Jacks of Spades multiply the initial bet by 100 times, a pair of Jacks by 25 times, a first card Jack by 10 times. This feature makes the game particularly exciting and amazingly rewarding. Other rules are similar to the standard version of blackjack.
Play Blackjack Professional Series here for free!
Other Netent versions include Blackjack Classic, a five hand game with three bet levels: low, normal and high limit (you can play here) and simply Blackjack, a 3 hand and 6 deck game with a pleasant background music (you can play here).
Every NetEnt game and its RNG software are certified after testing by iTech Labs. Statistical analysis and mathematical models are utilized for this task, with numerous shuffling and randomness tests covering all the possible options and number of decks. Considering all the proven procedures adopted, players can definitely enjoy the games without any worries of rigged results.

Tags: blackjack pro, casino games, double exposure blackjack, HD, HD live, live blackjack, multi hand, NetEnt, online casinos, single deck
One Response to "Blackjack Variants powered by NetEnt: an Overview"