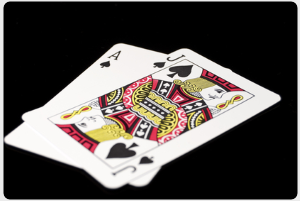 The most successful way to win a shoe game which uses 4, 6 or even 8 decks of cards, like blackjack, is without any doubt the card counting technique. Not illegal, but not welcomed by casinos either, card counting is the only strategy that transforms a pure game of chance in a skill game. Generally speaking, higher the number of decks used is, lower the advantage of the game, but there is still an advantage. In a traditional game of blackjack the cards are hand shuffled by a dealer, according to a pattern he was taught during his training period, which guarantees a random shuffle for the next shoe. This represents the perfect stage for an expert player to guess hands through card counting.
As in many other fields of our life in this fast paced world, the
automation
entered into the casino houses too and, nowadays, often casinos use automatic shuffle machines, instead of dealer shuffles, to speed up the game. If you are a card counter, a question of paramount importance you have to ask yourself before sitting at a table which uses a shuffle machine is:
Which kind of shuffle machine is this?
There are basically two types of shuffle machines.
– A random shuffle machine, which takes all the decks of cards and shuffles them altogether. Then the dealer takes the full stack of cards, ask a player to cut, puts the stack into the shoe and deals.
– A Continuous Shuffle Machine (CSM), where a dealer deals out just 1-4 rounds, takes the used cards and puts them back into the machine that continuously shuffles together 3-5 decks.
The first kind of machine is great. It speeds up the game and, while it undoubtedly lowers the possibility of successfully using a basic strategy because of the large number of hands dealt, it does not hurt in any way a card counting technique.
The second machine instead makes it impossible to predict which cards are left in the shoe and counting cards is pointless. These machines were introduced in 2000 by
SHFL entertainment, Inc.
(formerly Shuffle Master and successively acquired by Bally Technologies in 2013) for this very reason, to help casinos prevent card counting. In fact the machine was promoted this way – "
The King
" – as the machine was called – "
continuous shuffler is the card counters worst nightmare.
" This device is, indeed, the perfect instrument to thwart any players who are skilled in a counting system that can be used at a blackjack table.
The advantages for a casino of using a Continuous Shuffle Machine are at least three:
1. It eliminates card counting;
2. It eliminates shuffling time, increasing in this way the number of hands dealt and the profits for the house;
3. It reduces the number of decks of cards needed with considerable cost savings.
True thing is that players clearly do not like these devices, and, if they have to play against a machine, with very reduced human interaction, they prefer to play blackjack online, in the comfort of their homes. So more often than not CSM tables in the casinos of Las Vegas and Atlantic City are desolately empty. Even dealers strongly prefer hand shuffling because it represents a break from the tension of the game during which they can have some fun and socialize with the players. So it is very hard to think that these machines will completely take over, at least I hope so 😉

Tags: automatic, automation, card counting, Continual Shuffle Machine, Continuous Shuffle Machines, CSM, random shuffle machine, shuffle machines